Hertfordshire PCC David Lloyd's budget cuts and tax freeze backed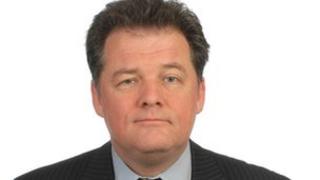 A new budget for Hertfordshire Police, which includes freezing its part of the council tax and the loss of more than 130 police officer and staff posts, has been approved.
The new Hertfordshire Police and Crime Commissioner David Lloyd's first budget was approved by the crime panel.
He said freezing its tax precept had been an election pledge.
The cuts are part of a package of £6.3m of savings identified in the county police force's budget for 2013-14.
The £202m budget also includes plans to cut 60 officer and 76 staff posts.
'Quality remains high'
The force at present is made up of 1,960 officers and 1,838 police staff.
Mr Lloyd, who was the successful Conservative candidate in the November PCC election, said: "I committed myself during my election campaign to freezing the council tax and I am now making good on my commitment.
"The important thing is that while the budgets are reduced, the quality of service for Hertfordshire remains high and crime will continue to be reduced."
Other savings, backed by the Hertfordshire Police and Crime Panel on Thursday, include a £1.8m cut in non-operational back office budget and £552,000 saving in the control room budget "by making it more efficient".
Between now and 2016-17, Hertfordshire Police needs to make £39m of savings.
When Mr Lloyd revealed the plans to cut the posts last week, Neil Alston of the Hertfordshire Police Federation said the cuts were a result of central government policies and he understood why the job losses were necessary.
"Hertfordshire Police are underfunded yet still bring in marvellous results but we are not sure how long this can be maintained," he said.