Rachel Manning murder trial: Keith Hyatt 'saw police at body site'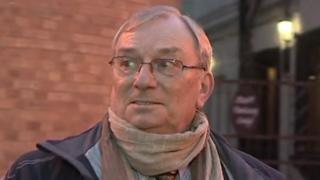 A man wrongly convicted in the case of a murdered teenager has told a jury he happened upon police activity when her body was found.
Rachel Manning, 19, was discovered strangled in Woburn in December 2000.
Shahidul Ahmed, 41, of Bletchley, Milton Keynes, denies her murder.
Keith Hyatt told Luton Crown Court he spoke to officers at Woburn Golf Club over concerns about the missing teenager. He was jailed for allegedly disposing her body and cleared in 2008.
The court heard Mr Hyatt had helped look for Miss Manning on 10 December when she became lost after a night out in Milton Keynes with her boyfriend Barri White.
Mr Hyatt drove his friend Mr White to a Blockbuster store - a spot where the couple agreed to meet - but Miss Manning did not turn up.
'Asked about Rachel'
On 12 December, he was driving his van as part of his job as a courier when he saw road blocks near Woburn Golf Club, the court heard.
Prosecution witness Mr Hyatt said: "I saw a lot of police activity up there so I stopped the van and phoned Sharon [Mr White's mother].
"I asked if anyone had seen Rachel, and do you want me to go and ask police - so that's what I did.
"I explained a friend had gone missing and gave a brief description of her and what she was wearing.
"I was told to come down to the station and make a statement."
The court has heard both he and Mr White went on trial for Miss Manning's murder in 2002, with Mr White convicted of murder and jailed for life.
Mr Hyatt was convicted of perverting the course of justice and served three years of a five-year sentence.
Both men were cleared in 2008 when new evidence came to light, the jury has heard.
Earlier, Mr White told the jury he had spent the past 12 years thinking Miss Manning might still be alive if they had got in a taxi together outside Chicago's nightclub.
He said he "hated every minute" of his six years in prison and the case had "ruined his life".
Restaurant worker Mr Ahmed, of Chestnut Crescent, allegedly strangled Miss Manning soon after she called Mr White about meeting at Blockbuster.
He then dumped her body and disfigured her face with a yellow steering lock, the jury has heard.
The trial continues.