Darren Leonard murder case: Charge dropped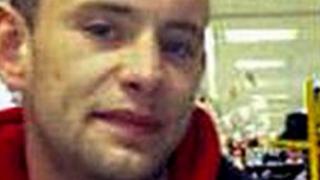 A charge of murder against a 22-year-old man accused of killing a drug dealer in Hertfordshire has been dropped for lack of evidence.
Judge Stephen Gullick ruled Amariloo Brami had no case to answer following legal submissions by barrister Sallie Ann Bennett-Jenkins QC.
Darren Leonard died after an attack at his flat in Hatfield in July 2012.
The judge at St Albans Crown Court told the jury there was no evidence that Mr Brami was present at the killing.
"The totality of the evidence is not enough for me to allow you to continue to consider the case against him," he said.
There was also no forensic evidence linking Mr Brami, an Albanian national, to the knife blades that were used on Mr Leonard.
Sustained attack
The murder trial continues against the co-defendant and Albanian Mikel Cela, also 22.
Mr Cela, of Mount Way Close, and Mr Brami, of Walnut Grove, both Welwyn Garden City, have pleaded guilty to conspiracy to rob Mr Leonard.
Prosecutor Michael Speak told the court that the dead man was a drug dealer who was bound hand and foot in his ground floor flat.
He alleged Mr Leonard, who was involved in a feud with Mr Cela, was beaten and stabbed to death as an attempt was made to find out where he kept his money and drugs.
Mr Speak said: "He was subjected to a sustained and lethal attack."
Mr Cela and Mr Brami had gone to Mr Leonard's flat to either rob him of money or drugs, or both, Mr Speak claimed.
The case continues