Harwell Dekatron recognised as oldest working computer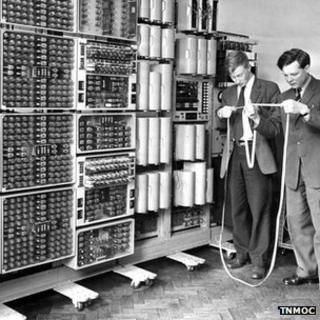 A historic calculator which was rebuilt after being dismantled and put in storage has been recognised by the Guinness Book of Records as the world's oldest working digital computer.
The Harwell Dekatron, at the National Museum of Computing, Bletchley Park, Buckinghamshire, first run in 1951.
Built for the Atomic Energy Research Establishment in Oxfordshire, it replaced work done by adding machines.
In November, it was rebooted, after a three-year restoration at the museum.
Design and construction of the 6ft 6in (2m) high and 19ft 8in (6m) wide machine known as the Witch, began in 1949.
The 2.5 tonne computer took up to 10 seconds to multiply two numbers but was reliable and often ran for 80 hours a week.
Kevin Murrell, one of the museum's trustees, said: "This was at a time when computers weren't really expected to work for more than five or 10 minutes without breaking.
"Today the fully-functioning computer is proving invaluable in teaching our stream of educational groups about their computing heritage."
In 1973 it was donated to Birmingham's Museum of Science and Industry and was on show for 24 years until 1997 when the museum closed and the machine was dismantled and put into storage.
By chance, in 2006, Mr Murrell spotted the control panel of the Witch in a photograph at the storage facility and recognised its parts.
On subsequent trips to the building, various parts of the machine were found and taken to the museum at Bletchley where restoration began.