Rachel Manning 'strangled and hit 10 times'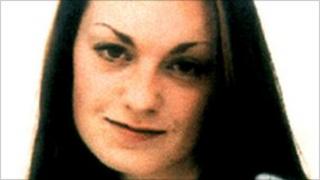 A teenager found dead at a golf course in Buckinghamshire had been strangled and hit 10 times on her head, a jury has heard.
Rachel Manning, 19, was found two days after she went missing in Milton Keynes more than 12 years ago.
Luton Crown Court was told yellow material was found in a laceration on her face. Miss Manning died of asphyxia due to compression of the neck.
Shahidul Ahmed, 41, of Chestnut Crescent, Bletchley, denies murder.
The prosecution case is that the restaurant worker strangled her, dumped her body at Woburn Golf Club and then disfigured her face with a yellow steering lock.
'Irregular shaped object'
Home Office pathologist Nat Cary carried out a post-mortem examination on Miss Manning on 12 December 2000 - the day her body was found.
He told the court she died of asphyxia due to compression of the neck.
He said the numerous lacerations to her face had been caused by "blunt force trauma" inflicted using an "irregular shaped object".
Miss Manning, who sustained almost 20 facial injuries, had been dragged through undergrowth causing scratches to her arms and legs.
Mud and vegetation was trapped in the top of her long boots, the court heard.
Dr Cary said the lack of injury to the back of her neck suggested compression from behind. Injuries to the front of her neck suggested a "soft ligature" had been used.
He said the yellow material found on Miss Manning's face could have come from paint.
Boyfriend's conviction quashed
In 2008, he wrote another report in which he said bruising to the right side of her face face was in keeping with a punch or a forceful grip with a hand when she was still alive.
Miss Manning had been to a 1970s themed party with friends on 9 December 2000.
Her boyfriend, Barri White, was convicted of her murder in 2002.
The case at that time had been that Mr White had attacked his girlfriend at a phone box in Milton Keynes and strangled her.
His conviction was later quashed on appeal and he was acquitted at a retrial in 2008.
The trial continues.