Eight hundred schools shut in Beds, Bucks and Herts after snow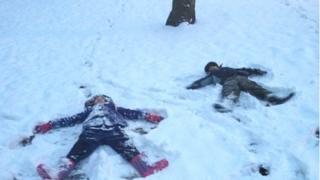 More than 800 schools in Bedfordshire Buckinghamshire and Hertfordshire are closed after heavy snow on Sunday.
Hertfordshire has more than 350 closures, Bedfordshire has more than 230 while Buckinghamshire and Milton Keynes have seen more than 280.
Among the problems a lorry hit a bridge near Baldock, causing delays to London-bound trains at rush hour.
First Capital Connect said poor weather conditions would continue to affect services between Hitchin and London.
A man has also been taken to hospital with minor injuries after his car left the A1(M) near Stevenage and hit a tree and fences.
Luton Airport is open, but a spokesman said some minor delays could occur as areas were de-iced and cleared of snow.
Hertfordshire Police are warning people not to leave their running vehicles unattended while defrosting their cars after a person tried to steal a car in Kimpton.
Several inches of snow fell during Sunday and a yellow "be aware" ice warning is now in place for the Eastern region.
BBC Weather said the East of England could see further light snow flurries.
The Highways Agency is urging road users to remain vigilant and to respect the difficult conditions as the snowfall tails off.
Minor delays
Arriva Buses said across all three counties, it was only the number four service in Aylesbury was not running on Monday morning.
A spokeswoman added that some estates, minor roads and some villages could not be served and there were also a few problems on routes in High Wycombe where cars had been abandoned on Sunday night.
People are being urged to play safely in the snow after the East of England Ambulance Service said that "anecdotally" there had been more than a dozen sledge-related 999 calls across its region this weekend.
Gritter Keith Aycombe, who has been clearing the roads in Milton Keynes for 12 years, said: "Every year it's about the same. I can remember years ago when we did have bad falls of snow in 1962 and that, but now it's not too bad really."
Making the most of the snow, a family in Milton Keynes has decided to turn their 6ft 5in (2m) snowman into a charity money-making venture.
Jessy Soloman, her brother and two young daughters began making Jack on Saturday "for a bit of fun" and they have since been given money, sleeping bags, hats and gloves to help the homeless.
Ms Soloman said: "We've even had a homeless man put some money in after he saw an 18-year-old girl sleeping in the snow with just a blanket around her."
BBC Weather said the East of England could see a few very light snow flurries on Monday.
It said the snow lying on the ground would keep the temperatures very low, not getting above freezing except in Luton or Milton Keynes where it may reach 1C (34F).