About 373 schools shut in Beds, Bucks and Herts as snow arrives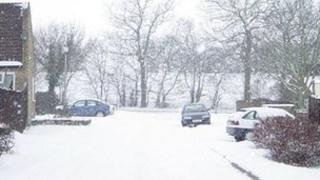 Snow begins to fall in Bedfordshire, Buckinghamshire and Hertfordshire where 373 schools closed early.
This part of the East of England was put on amber alert to "be prepared", with up to 10cm (4in) of snow.
Snow is likely to become heavy during the night making road conditions difficult, the Met Office said.
On Friday the number of closed schools rose to 373 by afternoon with 88 shut in Bedfordshire, 76 in Hertfordshire and 209 in Buckinghamshire
Hertfordshire County Council's highways department said gritters were out in the county on Friday night and asked people to drive with extra care on Saturday.
Luton Airport was operating as normal but are advised passengers to allow extra time for their journey to check in.
Train company First Capital Connect said it was running a normal timetable but spokesman Roger Perkins predicted delays on Thameslink through Bedford and the Great Northern route to King's Lynn in Norfolk.