Luton owners of 'maggots' Meads Bakery on Bolton Road fined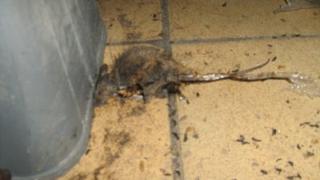 A couple whose bakery in Luton was covered in thick mould and mouse droppings has been fined £38,000 and banned from running a food business.
Food safety officers found "appalling conditions" at Meads Bakery, including maggots infesting bread baskets.
Sunderam Premanand admitted nine food hygiene offences and his wife Sathiabama admitted five offences at Luton magistrates on Monday.
Luton Borough Council said its advice was constantly ignored.
The business produced bread, rolls and pastry items for small retailers throughout Luton and neighbouring counties.
Inspectors had visited the Bolton Road bakery, on an industrial estate in Luton, eight times in 2012.
'68 mice caught'
The council said it found swarms of fruit flies and other signs of pests - including, on the final visit, two dead mice on the bakery floor.
Mr Premanand admitted the pest control company he employed had caught 68 mice in five weeks, but the council found several holes where mice could get in.
Food debris, grease and raw bread dough coated floors and gathered in cracked tiles, and there were pools of dirty water under the sinks, the council said.
Spider webs were hanging in thick strands and paint was flaking from the walls and ceiling, directly over preparation tables.
Black mould covered the walls and ceiling throughout and the word "office" and been scrawled in it, the council added.
Luton Borough Council said bakery workers did not know how to clean or disinfect and were mopping floors with dirty water.
The Premanands were fined £2,000 for each offence, and were fined a further £5,000 each after pleading guilty to five offences on behalf of the company, Meads Bakery Ltd.
The fines totalled £38,000 and the couple was also ordered to pay the council's costs of £1,908.
The ban effectively prevents them from running a food business ever again, the council said.