Darren Leonard 'killed over money and drugs'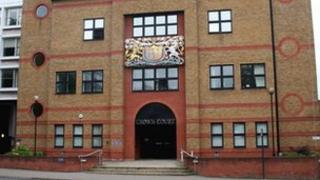 A Hertfordshire drug dealer was bound, beaten and stabbed to death by two men who wanted to find out where he kept his money and drugs, a court heard.
Darren Leonard, 24, died in hospital after being stabbed at his home on Northfield, Hatfield, on 11 July 2012.
Mikel Cela, 22, of Mountway Close, and Amariloo Brami, 22, of Walnut Grove in Welwyn Garden City, deny murder.
The jury at St Albans Crown Court heard both have pleaded guilty to a second charge to conspiring to rob Mr Leonard.
As the attack on Mr Leonard began, a couple in a flat next door could hear his voice through the partition wall, jurors heard.
The court was told the victim was heard to say: "I can't breathe, I can't breathe" and another voice replied "Where's the money? I am going to count to three."
The couple called police - but by the time the officers arrived at Mr Leonard's ground floor flat his attackers had gone, jurors were told.
Mr Leonard was tied up on the floor in the hallway.
He was bleeding heavily from two stab wounds on either side of his back and died in hospital hours later.
Michael Speak, prosecuting, said it was a "sustained and lethal attack".
Mr Leonard's wrists and ankles had been bound with cable ties and electrical cable.
'Ongoing feud'
Mr Speak added there was "another element" to the case because there was a "feud" going on between Mr Leonard and Mr Cela.
He said Mr Cela believed the deceased was responsible for stealing a large quantity of drugs from him in the past.
The court heard Mr Leonard dealt drugs from his flat including cannabis and cocaine.
The trial continues.