Luton Airport expansion: Consultation 'flawed and misleading'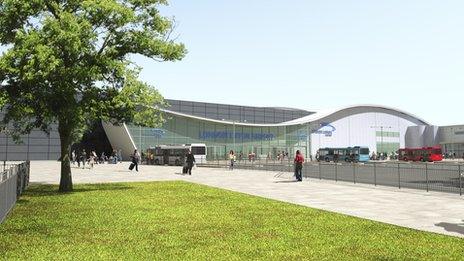 Campaigners say the majority of the public are against plans to expand Luton Airport, despite claims that a public consultation showed support.
Luton Airport said that 65% of 1,360 responses backed expansion plans to support 18 million passengers a year.
But Andrew Lambourne, of Hertfordshire Against Luton Expansion (HALE), said most of the responses came from people associated with the airport.
"The general public, who will be most affected, were 73% against", he said.
Last week the airport operator, London Luton Airport Operations Limited (LLAOL), said it received 885 positive responses during its public consultation, 380 objections and 94 from parties who were undecided.
Mr Lambourne, who lives about six miles away from the airport in Flamstead, said a breakdown of the responses showed only 450 came from the public.
"What they also included was 612 votes from airport employees, airlines, airport union members and businesses associated with the airport," Mr Lambourne claimed.
"Unsurprisingly they were 100% for expansion of the airport."
The concerns are that plans to increase the capacity from about 9.5 million passengers a year would create too much traffic and noise, significantly damaging residents' "quality of life".
Mr Lambourne said the airport's promise of reduced night-time flights and a fining system for aircraft which breached noise limits, offered as a response to the consultation, was "spin".
Noise levels at night would still rise, he said, and the number of flights deterred by the noise restrictions would be insignificant to the "160 extra flights a day" gained by the expansion.
"If you take the spin at face value you might think it's something good, it's not," he said.
Mr Lambourne said the fact that 29 of the 47 responses from stakeholder organisations, a group which included local councils, were 'undecided' proved that the plans "didn't have enough information".
"The master plan didn't include an environmental statement or details of where the aircraft would be flying. It simply proposed they would be doubling the capacity of the airport from about 9.5 million passengers and increase the number of flights by 60%.
"What they didn't say was what's the environmental impact, the impact on roads and rail services and where the aircraft would be going, so you would know where the burden of noise will fall."
LLAOL said the expansion, which would be carried out in three phases up until 2028, could create up to 5,100 jobs.
Luton Borough Council is carrying out its own consultation, until 18 February.
Related Internet Links
The BBC is not responsible for the content of external sites.