No refunds for swimmers disrupted by Splash! filming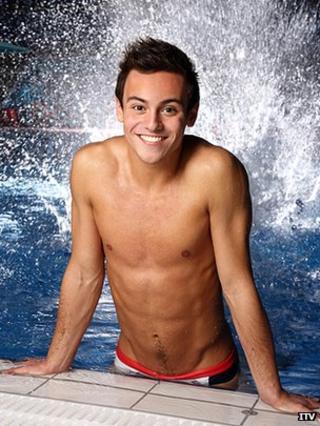 The benefits of hiring out Luton's new swimming pool to the makers of ITV1's Splash! outweigh the inconvenience to the public, the council says.
Some members of the Inspire Centre have called for refunds because they cannot use the main competition pool on Fridays and Saturdays until 2 February.
Sessions have been cancelled, rescheduled or relocated.
The council said it wanted to promote the town and participation in sport and it will not refund membership fees.
The new reality programme, featuring Olympic diver Tom Daley, is broadcast live from the centre every Saturday night.
The facilities, which opened in August 2012, are run by Active Luton on behalf of Luton Borough Council, which said more than 9,000 people had signed up as members since it opened.
Luton resident George, who did not give a surname, called the situation "daylight robbery".
"I pay every month. I'm being robbed of the facility and it's not on," he said.
"Members are not really consulted and all of a sudden they are confronted with the pool being closed."
Another swimmer, Jenny Wells, said it was "unfair" if you were normally only able to use the pool on a Friday or Saturday.
"You've paid for membership up front and you can't use it, that's bad, there should be a refund," she said.
'Promote Luton'
Council leader Hazel Simmons said the council had a "duty" to promote the town and signed up to host the programme to improve Luton's image and increase participation in sport.
She said she was "not allowed" to reveal how much it was being paid for the use of the facility because it had signed an agreement to that effect with ITV's production company, TwoFourTV.
However, she added the council was "consistently" working with the production company to minimise disruption.
"We are not offering money back. The money is going into sport and sports equipment so [members] will indirectly benefit from it," she said.
"We wanted to do something for Luton that was positive and I think everyone has got to admit that the swimming pool looks fantastic on the telly.
"We have also had a big response from people wanting to sign up to do diving.
"Everything we do is about getting a good message out about Luton, to bring business here and increase jobs for the people that live here."