Shobhna Jethwa stabbing: Murder trial stopped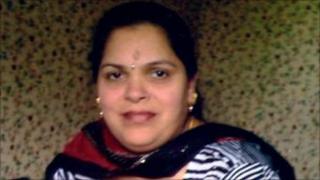 The jury in the trial of a man accused of stabbing his married lover to death in Luton has been discharged.
Sultan Khan, 51, of Durbar Road, denies murdering Shobhna Jethwa, 45, at her home in September 2011.
St Albans Crown Court was told they had rowed about compensation owed to him after an accident at work.
Judge Andrew Bright QC stopped the trial on Thursday following legal argument. It is due to restart with a new jury on Monday.
The trial, which began on Tuesday, had heard Mrs Jethwa was found slumped on her sofa with 20 stab wounds by her 16-year-old daughter and son, 12.
It was claimed she had helped Mr Khan after he was hurt while working on a new bypass in Oxfordshire in May 2011, but then "badgered" him for money.
Husband on train
His boss, Kuldeep Singh, told the court Mrs Jethwa was "very upset" when she heard what had happened, but when he later spoke to Mr Khan he said: "tell her nothing".
Prosecutor Allan Mainds said Mrs Jethwa conducted an intense relationship with Mr Khan for two years and was also having an affair with a younger man.
On 9 September, Mr Khan was seen on CCTV travelling by bus near her home in Butely Road and a neighbour saw him use his crutches to open Mrs Jethwa's garden gate.
Mr Mainds said the prosecution did not believe that Mr Khan had gone to the house to kill, as he had bought Mrs Jethwa a top-up for her mobile phone.
He said the defendant attacked her in a "violent frenzy" during a row over the money.
Jaswinder Kaur, who lives in the same building as Mr Khan, told the jury she had seen him later that day, at about 15:00 GMT.
He asked her for the key to the front door because he had left it with his girlfriend who "wasn't coming today", she said.
The jury has heard Mrs Jethwa's husband was on a Virgin train between Manchester and Euston at the time she died, and her other boyfriend was at a mosque.