Milton Keynes market 'will not survive' development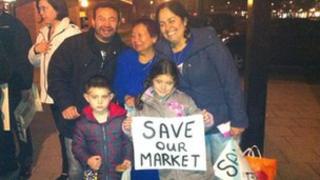 Traders have told Milton Keynes Council the town's market "will not survive" if stalls are relocated to make way for a department store.
Owners of shopping centre, thecentre:mk have submitted a planning application to knock down the Secklow Gate bridge and build a new Primark store.
The scheme includes moving the market, currently underneath the bridge.
In a presentation to the full council, market traders said the new site will be smaller and not as visible.
The Grade II listed shopping centre, built in the 1970s, has more than 230 stores.
It is jointly owned by UK property management companies Hermes Property Asset Management Ltd and Prudential Property Investment Managers Ltd, who are financing the £40m project.
The planning application to extend the shopping centre by 90,000 sq ft was submitted to Milton Keynes Council in August.
At a council meeting on Wednesday, stall holders expressed concern about the project, which they said would put the livelihoods of 200 traders at risk.
They are worried about a proposed reduction in size of the market by 40%, no weather protection, worse access and less visibility compared to its current location.
'Less trade'
Trader Chris Lee said: "Our market has developed over 30 years, you can't just move it lock, stock and barrel and expect it to survive, it just won't."
He added: "40% less size means 40% less trade and obviously the lack of visibility will mean less trade as well.
"Less trade means we will just go out of business and some of us are only just surviving as it is. If we lose 40% of either size or trade, that's it, the end."
Melanie Beck, from thecentre:mk, said the planning application was submitted following a public consultation and more than 9,000 people signed petitions supporting the plans.
It said it would not comment on the concerns.
The council said it hoped the plan will go before the council's Development Control committee in February.
A spokesperson said councillors would "give due weight and consideration" to the traders' points and look at all the facts before making a decision.