Felix Yorke death: Police seek Bedford man with wet clothes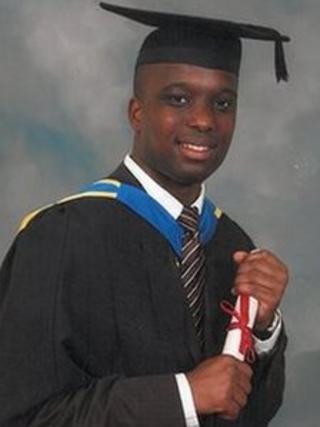 Police investigating the disappearance of a 25-year-old man have appealed for a second person to come forward.
A body found in the river at The Embankment in Bedford on New Year's Day is thought to be that of Luton man Felix Yorke, 25.
Mr Yorke disappeared after leaving work on 30 November, 2012.
A passer-by reported meeting a man carrying wet clothes two hours after a splash was heard in the River Great Ouse, who police want to speak to.
He was described as white, in his 30s, about 5ft 10in - 11in (1.78 - 1.80m) tall and had light brown hair and a full beard.
'Lost rucksack'
Dressed in dry tracksuit trousers and Croc-style sandals, he was carrying wet clothing.
He told the witness, who he asked for a cigarette, he had fallen in the water and lost his rucksack and a picture of his daughter.
The exchange, on 30 November, happened at about 21:00 GMT - about two hours after another member of the public reported hearing a splash from the Borough Hall side of the river.
Police and fire crews searched the area that night and the following morning but nothing was found.
Detectives say they do not know whether the sighting of the man, the splash and the disappearance of Mr Yorke are connected.
Phone records show Mr Yorke's phone was last active at 19:00 in Bedford that evening.
Sgt Gavin Conder said: "These three things may not be linked in any way, but we would like to trace the man with the wet clothes to see if he can clarify any of the information we already have."