Fishermead shooting: Jury out in Milton Keynes teen murder trial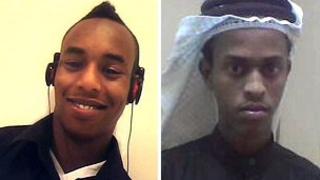 A jury has retired to consider its verdict in the trial of three men accused of killing two teenagers.
Mohammed Abdi Farah, 19, and Amin Ahmed Ismail, 18, were shot in an alley in Milton Keynes in a dispute over "drug turf", Luton Crown Court heard.
Sharmake Abdulkadir, 22, Fuad Awale, 25, and Yahya Harun, 22, deny murdering the pair on of 26 May 2011 on the Fishermead Estate.
Mr Mohammed died at the scene and Mr Amin was pronounced dead in hospital.
The three defendants - two from the town and one of no fixed address - are all of Somali origin, along with the two victims.
Prosecutors said the accused were part of a gang of five, two of whom were not in court.
Mr Abdulkadir also denies a charge of possessing of a firearm with intent to commit an indictable offence.