Shobhna Jethwa: 'Boyfriend' denies murder of Luton mother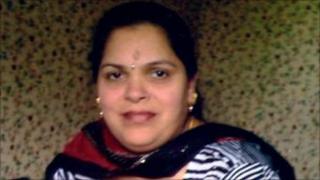 A married woman with two boyfriends was found murdered when two of her children came home from school, a court has heard.
Shobhna Jethwa, 45, was slumped on the sofa at their home in Luton with 20 stab wounds to her neck and upper body.
The 12-year-old boy and 16-year-old girl tried to revive her, but she had been dead for two hours, St Albans Crown Court heard.
Sultan Khan, 51, of Durbar Road, Luton, denies murder.
Ambulance and police crews were called to the house in Butely Road, at about 16:00 BST on 9 September 2011.
Prosecutor Allan Mainds said: "The children were understandably very upset and shocked by what happened and were taken to neighbours.
"When the 12-year-old boy was spoken to by officers the next day they were surprised to learn that his mother had two boyfriends.
"The boy told the police he knew where his mother's boyfriends lived.
Building site accident
"He took the officers to Dunstable Road, Luton, where one lived, and then showed them an address in Leagrave Road."
The prosecution alleges Mr Khan, who had lived at the address in Leagrave Road, was Mrs Jethwa's killer.
At the time, the jury was told, he walked with crutches following an accident on a building site.
The jury of six men and six women have been told Mr Khan, who is aided by an interpreter, now has to use a wheelchair.
Mr Mainds said Mrs Jethwa's husband Rajesh, a railway manager, had an alibi for the murder.
"At the time he had been on a Virgin train between Manchester and Euston. That excludes him from being the killer. He was doing a job miles away," said the prosecutor.
Knives in drawer
He told the court that at the house in Butely Road, Mr Jethwa usually slept downstairs while his wife had a bedroom.
After the killing police found two knives in a kitchen drawer in the dead woman's house.
Blood and tissue from the dead woman was found on one of them and on the other knife was the defendant's DNA, said the prosecutor.
Mr Khan was allegedly captured on CCTV using two crutches and catching a bus at 09:55 BST that day from near Beech Hill Post Office in Luton.
At 10:13 he got off the bus, a short distance from Mrs Jethwa's home.
A neighbour cleaning the blinds in his bathroom at his home in Butely Road is said to have seen Mr Khan use his crutches to open the gate to the back garden of the Jethwas' home that lunchtime.
Later he was seen boarding a bus and at 14:42 he had changed from western clothing to an Asian garment and went to Acorn Chemists in Luton for his prescription.
CCTV showed he had discarded the crutches and was walking with a Zimmer frame, said the prosecutor.
When questioned by police, Mr Khan said: "I don't know what happened. I didn't do it."
The case continues.