Fire crews rescue grey squirrel from Watford pond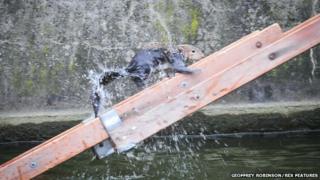 Three fire crews were called in to rescue a marooned squirrel after it got stuck on an island in a pond.
The grey squirrel was coaxed from the pond in Watford High Street, on a ladder used as a makeshift bridge.
Fire crews were sent because it was believed that members of the public had been trying to rescue the animal.
Hertfordshire Fire and Rescue insisted its response, on Sunday, was "appropriate" as it initially thought people could have been in danger.
When it became clear no-one was at risk, two of the crews, including one in a water rescue vehicle, were stood down.
The operation took about 10 minutes, the service confirmed.
Area commander Ian Parkhouse said: "We received a call indicating that an animal was stuck on the island in the middle of the pond in Watford High Street and that people were trying to rescue the animal from the island.
"We sent the appropriate response to that for a risk to life because we believed members of the public were trying to enter the water."
A service spokesman said had it been made clear during the first 999 call that no-one was in the water, they would have left the squirrel to the RSPCA.
He said it was not known how the squirrel had got in the water and that after the rescue, the animal ran off.