Watford allotment land 'not needed' for hospital plan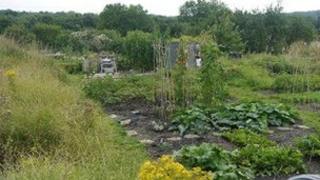 Allotment holders fighting plans to build homes on their plots behind Watford Football Club say the land is not needed for the scheme to be viable.
The proposal is part of a wider plan to expand Watford Hospital, next to Vicarage Road and build 600 homes.
Watford council says using the Farm Terrace allotment land will "make the scheme viable".
Plot holders have been offered other places in South Oxhey, 1.2 miles away, but feel that is too far to travel.
The Watford Health Campus project on a 26.5 hectare site is designed to regenerate land between the club and the hospital.
The 116-year-old allotments were initially protected but a decision to include the plots was made by the council and health bosses in December.
'Absolutely untrue'
Sara Jane Trebar from the Save Farm Terrace Allotment Campaign, said only about 60 of the homes were earmarked for the allotment plots.
"It's not absolutely necessary to have the allotment land at all, they could build [them] somewhere else," she said.
Watford's Liberal Democrat mayor Dorothy Thornhill said it was "absolutely untrue" to say the hospital did not need the land.
"Not including the allotment land makes their life more difficult and more expensive," she said.
"[The hospital] said [without the land] it would be a "make do and mend hospital", well for me, make do and mend is not good enough for Watford."
She said she had sympathy for the allotment holders but there was a "greater community need".
Developers Kier will submit a revised planning application in the spring, which will go out to consultation.
Any applications that involve building on allotment land also need government approval.