A47 road deaths: Family pays tribute to 'angel' sisters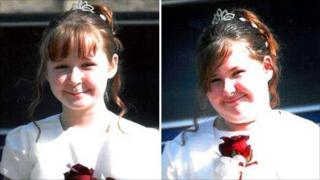 The family of two young sisters who died after a car crashed into a roadside drainage ditch have paid tribute to their "little angels".
Tamzin, 10, and Jessica Portor, seven, of Sutton Bridge, Lincolnshire, died in hospital on Thursday following the crash on the A47 near Wisbech.
In a statement, the family said the girls' deaths had left them devastated.
Coroner William Armstrong said he was concerned that eight people had died on Norfolk's roads over Christmas.
The family said: "The loss of our little angels can never be replaced.
'Loved to sing'
"The whole family and friends are devastated. The family would like to thank all the well-wishers who have passed on their condolences."
The girls loved to sing and dance, eat chocolate and watch Doctor Who on television, the family said.
They added: "Tamzin was a comical little girl. She was always happy and saw the funny side of things.
"She was a good student and helped out at school. She loved helping people.
"Tamzin loved to sing with her friends and would write her own lyrics.
"She loved to socialise and was a fun person to be around. Her latest craze was Moshi Monsters and Doctor Who.
"Jessica was a lively girl who loved to dance and eat chocolate. She loved to wear make-up and going out.
"Jessica was also very comical and had bags of energy. She would bring alive any room she was in. Both Jessica and Tamzin loved music, singing and their pet dogs."
The sisters were travelling in a Ford Focus being driven by a 43-year-old woman when it left the road, overturned and came to rest on its side on the edge of the ditch, at Walsoken, near Wisbech.
Multiple injuries
The girls' brother, aged 12, their father, aged 38, and the driver of the car all sustained minor injuries and were released from hospital after treatment.
An inquest, opened and adjourned by Norwich coroner William Armstrong, heard that Jessica and Tamzin were rear seat passengers in the car.
Both were taken to Queen Elizabeth Hospital in King's Lynn where they were pronounced dead.
Post-mortem examinations found both had died of multiple injuries.
Referring to the sisters' deaths and the deaths of six other people in Norfolk over the Christmas period, Mr Armstrong said: "It's a matter of grave concern that there have been so many fatal crashes in such a short space of time.
"Each one of these deaths will the the subject of a rigorous, comprehensive investigation by the police.
"The inquests will hear all the necessary evidence, come to proper conclusions and make sure the circumstances of each and every death are very carefully and closely examined."
He added: "If there are lessons to be learned from these tragedies, I shall make sure those lessons are learned.
"The circumstances, of course, are all very different. Assessing the circumstances of road traffic collisions is a complex process."