Edward Gillespie search team to carry on after body find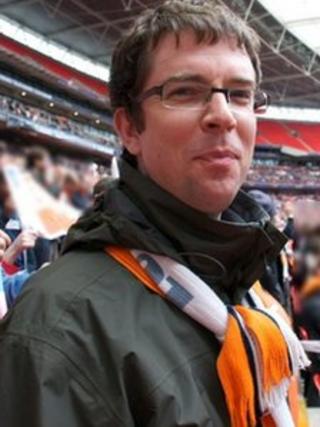 Volunteers looking for a missing Bedfordshire man have pledged to carry on with their search, after finding the remains of another man on Thursday.
Edward Gillespie, 38, from Luton, was last seen early on Saturday at the Roydon Marina Hotel near Roydon Mill in Essex after a Christmas party.
Six of his friends found a body, thought to be Gwyn Morris, 88, in Feildes Weir Lock, Hoddesdon.
Mr Morris went missing from a care home in Stanstead Abbotts on 6 December.
Another team of volunteers had spent the day looking for the elderly man, after his family appealed for the public's help.
The body has not yet been formally identified.
'Trying to help'
One of the group which found the body, Matthew McGrath, 37, who has known Mr Gillespie since they were 11-year-old pupils at Icknield High School, said he had been searching for his friend nearly every day since he was reported missing.
"We are just going to keep looking," he said.
A Facebook page has been set up to help co-ordinate the volunteer search and Mr McGrath said: "Eddie has got a lot of good friends and so many are trying to help."
He said six of them spent Thursday walking along the river, putting posters in pubs and talking to people along the way when he and friend Chris Bartlett spotted a body in the water.
"We thought we saw someone head down in the water, but it looked like a car seat," he said.
"We called everyone else who managed to turn it over with sticks and I saw it was a body, but I knew it wasn't Eddie because of his clothes."
Police were notified and officers told them it might be another missing person.
"It's terrible that we found a body but I hope it at least gives his family closure," said Mr McGrath.
"If someone found Eddie, at least we would know."
Mr McGrath said he had no idea what could have happened to his friend.
'So hard'
"A lot of thoughts are going through my head, but Eddie doesn't really go anywhere without anyone, that's the confusing bit," he said.
"It's so hard at the moment, when I am on my own I get upset but when I am looking for him I just feel a drive to carry on."
Essex Police said they were continuing to investigate Mr Gillespie's disappearance.
A spokesperson said they were concerned about members of the public doing their own searches, because water levels in the area were high and river banks were slippery.
"We have professional searchers out and want to warn people not to put themselves in danger," she said.