Dunstable's Santa Ron opens Christmas skills school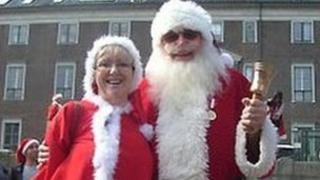 A 77-year-old man who has stood in for the real Santa for 48 years has opened a school to pass on Christmas skills.
Ron Horniblew of Dunstable is not going to retire because he enjoys representing the real Santa so much.
He said that the poor quality of many counterparts in stores has inspired him to pass on his experience.
He started playing Santa when his son was a child and it "snowballed" as friends got him to do the same for their children on Christmas morning.
The Santa school - aimed at people trying to get employment as a trained and professional Santa - involves a one-day intensive course held in the autumn.
Mr Horniblew also explains what can and cannot be done when representing Santa and tries to improve people's confidence.
Top award
Mr Horniblew still appears at shopping malls around Bedfordshire offering Christmas advice and giving out festive parcels.
"If I bring a smile to people's faces then I know the Good Lord has put me on this world for a purpose," he said.
"That's what I want to pass on at the school to others who want to represent Santa.
"I tell children I am the real Santa's helper."
His approach has secured a top award - the world champion Santa in 2004.
He also received an official certificate as the real Santa's representative in Britain when he completed 40 years service in the role.
As well as delivering presents around the Dunstable area Ron, who ran his own upholstery business, also takes festive jobs in Christmas grottoes and malls.
He has raised money for church charities and the East Anglian Air Ambulance as well as welcoming people at an annual 60s dance in Dunstable at Christmas.
His wife Betty always accompanies Santa Ron on his excursions overseas. He has played Santa in Holland, Norway, Denmark and Sweden.