Carer Ameet Mohabeer 'abused victims' after return to work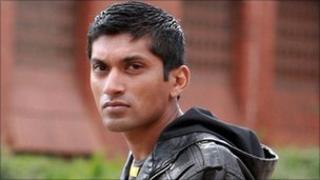 A hospital worker from Luton suspended over an alleged sexual assault was allowed back to work and abused 14 more victims, a report has revealed.
Ameet Mohabeer, 28, was accused of carrying out abuse on the stroke ward at the Luton and Dunstable Hospital between October 2008 and January 2011.
He took his own life before the case came to court.
An Adult Safeguarding Boards report criticised the "collective failure" of hospital, police and councils.
Report author Derek Law said none of the agencies responsible for "alerts", the hospital, Bedfordshire Police and social services teams at Luton and Central Bedfordshire councils, had been managing them effectively.
One former patient said he had been told he "was imagining it".
He said: "It wasn't taken seriously. It's not the sort of thing you imagine though is it? You go into hospital to be treated and get better, not to be sexually assaulted."
Hospital chief executive Pauline Philip said she was "deeply sorry" for what happened.
'No case'
Healthcare assistant Mohabeer, from Butely Road, was suspended in 2009 after one man claimed he had abused him.
Police found no case to answer, because the victim's account was "ambiguous and inconsistent".
Mohabeer was allowed to return to work where he molested more victims and was arrested again in February 2011 when two more complaints were made.
A helpline was set up and more victims came forward.
Mohabeer, who began work at the hospital in November 2006, pleaded not guilty when he appeared at St Albans Crown Court on 15 September 2011 to 17 charges of sexual offences.
Ten days later he took his own life at his home while on bail, saying in a letter he was not taking his life because he was guilty.
In February 2012, the Adult Safeguarding Boards of Luton and Central Bedfordshire commissioned an independent inquiry.
In its report, Mr Law said the initial case, reported to a ward sister on the 30 November 2009, should have been raised with senior staff at the hospital because a more "robust approach" may then have been taken.
Check vulnerable patients
This is because the "threshold of proof" applied to police prosecutions is higher than that applied to safeguarding adults.
He added that the hospital should also have considered a recommendation that two members of staff attend patients' personal care tasks, such as bathing.
Mr Law "strongly recommended" that Luton and Dunstable Hospital NHS Foundation Trust introduces measures that check vulnerable patients are safeguarded.
The report also criticised the "apparent indecisiveness" shown by the agencies when three weeks elapsed between the first 2011 alert on 11 January and the second on 4 February.