Disrupted East Coast Main Line rail services resume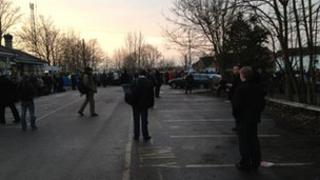 East Coast Main Line train services, disrupted since Monday afternoon, should return to normal by Wednesday evening, train companies said.
Passengers faced delays between Peterborough, Cambridge and London King's Cross.
Overhead power lines came down between Stevenage and Hitchin, in Hertfordshire, leading to hours-long delays at evening rush-hour.
Trains are now running but some rolling stock is in the wrong place.
Network Rail apologised after initial repairs on Monday failed.
The company's engineers worked on repairs throughout that night, but the first train through on Tuesday morning brought the lines down again.
Network Rail said the line was handed back at 06:00 GMT on Wednesday.
Robin Gisby, from Network Rail, said: "We thought we had put it back together properly [on Monday night], clearly we didn't.
"I suspect that whatever it was [on Tuesday morning] was something we didn't fix properly last night for which I can only apologise because a lot of people got stranded."
'Sincerely apologise'
The problem affected passengers with four train companies - First Capital Connect, East Coast, First Hull Trains and Grand Central.
Larry Heyman from First Capital Connect said Tuesday had been a "horrendous day" for passengers for which the company "apologised sincerely".
He said: "The good news is that when we were able to start running [trains] through from early this morning everything has held up so we are gradually getting back to normal now.
"There was a lot of rolling stock displaced so we have got a very few short forms and a very few cancellations which should be sorted out by mid-morning on Wednesday and we expect to run a full service this evening."
East Coast trains have reported "a normal service" between London Kings Cross, Moorgate, Peterborough and Cambridge, but said a speed restriction through the affected area "could cause minor delays".
First Hull Trains said all services were "running smoothly" and people should "travel as they normally would".
Grand Central said a "good service" was currently running on all routes.
Passengers are advised to contact National Rail Inquiries for the latest information.
A spokesperson for Network Rail said it was "still investigating" what had caused the problem.