Murray Thompson murder: Father's anguish as body not found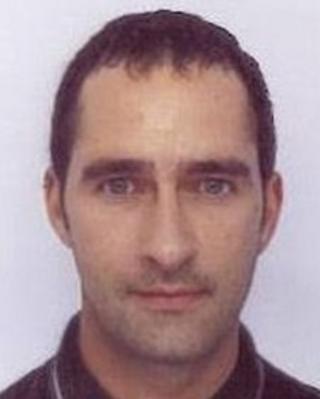 A man whose only child was murdered in a "motiveless" killing in Hertfordshire has spoken of his anguish that his body has not been found.
Murray Thompson - described by his father Tony as someone who was liked by everyone - disappeared in April 2010 after visiting a flat in Watford.
Police searching for the 34-year-old later found the flat had not only been used for growing cannabis but had been redecorated since Murray had been there.
Traces of his blood were found but Murray himself has never been discovered.
For Tony Thompson and the rest of the family, not knowing what happened to their son has put life on hold.
In October this year James Evans, who had been tending the cannabis plants with Murray at the flat, was jailed for life for his murder - but Tony said he could not gain any peace while Murray's whereabouts were still unknown.
'Good friend'
He said family life had been "turned upside down in an instant" when police said his son's disappearance was being treated as a murder inquiry.
"He was my only child, and we were quite close," said Tony.
"We were very alike in many ways, in appearance and manner.
"It certainly came across in the trial, that everybody liked him. He was a good friend to everybody."
During a trial which lasted several weeks, Evans, 23, refused to divulge what had happened that day in April more than two years ago, or why anyone would want to violently end Murray's life.
Evans and his co-defendants also kept their silence over where they dumped Murray's body, even when Judge Stephen Gullick told them he would be more lenient with sentencing if they decided to help.
The judge referred to the saying that the worst thing a parent can do is to bury a child - in this case an only child - and yet Murray's family had no body to bury.
"For whatever reason, they still chose to keep silent," said Tony.
"We've had no funeral and no idea what happened to him at the time, which we really need to know.
"It's been very difficult as we can't put him to rest.
"The thought processes you have - wild - but whatever we think might have happened is all speculation."
'Met wrong people'
The Thompson family are also coming to terms with the fact that Murray, who worked for a courier firm in Hemel Hempstead, was involved with a criminal gang and the growth of cannabis.
"It was a shock to us all. There were no signs," said Tony.
"He told us he was working in his spare time renovating flats for someone and I had no reason to suspect him, he'd never been in any trouble.
"At some point he bumped into the wrong people and the result was tragic."
It emerged at Evans' sentencing hearing that the family were offering a £5,000 reward for information which leads to the location of Murray's remains.
Tony said the offer still stood, adding: "We just want to know what happened to him and where he is, and so we can finally say goodbye to him in a proper way.
"We just want someone to come forward and say what they know, and confidentiality will be key to it.
"There is this nagging all the time. We've accepted he's dead, but there's no evidence that we can use to put the matter to bed.
"Life is never going to be the same again."
In December last year, on what would have been Murray's 37th birthday, the family got together to chat about him and share a meal, as they would have done with him were he still alive.
"We try to do things Murray would have wanted us to do," said Tony.
"He wouldn't want us to be forever sad and angry about it.
"He would want us to get on with our lives and maybe one day we will, the best we can."