Fishermead drugs shootings: Defendant blames co-accused for murders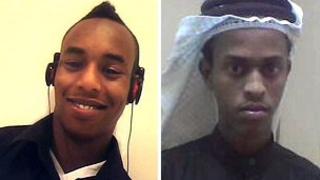 A man accused of murdering two teenagers in Milton Keynes in a row over drugs has blamed a co-defendant for the killings.
Mohammed Abdi Farah, 19, and Amin Ahmed Ismail, 18, were shot in an alley on the Fishermead Estate in a dispute over "drug turf", Luton Crown Court has been told.
Sharmake Abdulkadir, 22, told jurors he saw Fuad Awale, 25, kill the teenagers.
Mr Abdulkadir and Mr Awale both deny murder.
Mr Awale, of no fixed address, Mr Abdulkadir, of The Fleet, Springfield, Milton Keynes, each face two counts of murder carried out with two other unknown people.
Yahya Harun, 22, of Fishermead Boulevard in Milton Keynes, faces the same charge, which he also denies.
The two victims and three defendants are all of Somali origin.
Mr Farah had handed out Mr Awale's cannabis free of charge, the court was told.
'On your knees'
Mr Abdulkadir said: "The two boys came along an alleyway. They were walking in the direction of Fishermead.
"Awale walked over to them and said: 'Where's my weed?'
"Mo Farah said: 'Brother I don't have your weed'. Awale was aggressive. He wanted his stuff back. He pulled the gun out and shot Amin. I didn't know he had a gun," Mr Abdulkadir said.
"Awale said: 'Go on your knees' to Mo. He did not and he shot him too. Mo was saying: 'Please brother, please.' Mo fell to the floor."
Mr Abdulkadir - who also denies a charge of possessing of a firearm with intent to commit an indictable offence - said Mr Awale promised to kill him if he said anything.
Mr Mohammed was pronounced dead at the scene and Mr Amin died later in hospital.
Mr Awale has told the court Mr Abdulkadir and the other defendant Mr Harun are both drug dealers with separate areas in Milton Keynes.
He said that Mr Harun sold cannabis and crack cocaine in Fishermead and Springfield while Mr Abdulkadir sold cannabis, heroin and crack cocaine in Springfield, Conniburrow and Fishermead.
The trial continues.