Bedford Peri Peri takeaway gunman's appeal refused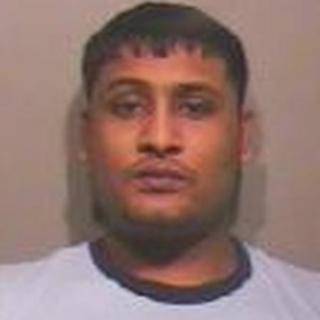 A 25-year-old who shot a man in a Bedford takeaway restaurant has failed in an appeal against his life sentence.
Mazhar Iqbal was left with pellets lodged in his face at Royal Peri Peri Chicken in November 2011.
Aktar Miah, 25, of Queens Road, east London, was jailed for at least 12 years for attempted murder in June.
Mr Justice Bean, sitting at the Court of Appeal, said the life sentence by a Luton Crown Court judge was "entirely justified".
Miah, who was also sentenced for possession of a firearm with intent to endanger life, argued that the original judge was wrong to brand him a significant risk of "serious harm" to the public.
The Court of Appeal heard Miah went to the chicken shop in Midland Road at about 01:50 GMT on 23 November, after a row with 34-year-old Mr Iqbal.
He denied the offences and said he had not intended to fire the weapon.
Mr Justice Bean, sitting with Lord Justice Elias and Judge Elgan Edwards QC, dismissed the appeal, and said the court could find nothing in the decision which could be challenged.
The judge concluded: "We consider that, for this very grave offence, a sentence for life imprisonment with a minimum term of 12 years was entirely justified and was not excessive at all, let alone manifestly excessive.
"This renewed application for leave to appeal against sentence is dismissed."