Wycombe Hospital 'turned away patient with heart attack history'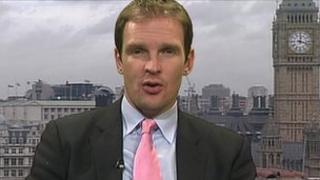 A woman with a history of heart attacks said a cardiac unit turned her away when she arrived with palpitations.
Becky Evans-Woodward arrived at Wycombe Hospital with a racing pulse of 188bpm but her husband was told he should leave and call her an ambulance.
Health minister Dr Dan Poulter told the Commons the care she had received was "more than substandard".
Buckinghamshire Healthcare NHS Trust said it was sorry if its care standards had fallen short.
Mrs Evans-Woodward's husband Alvin said four years ago, aged 29, she had suffered five heart attacks in a day and had been in intensive care in hospital.
On 5 November she began to get palpitations and he took her by car to Wycombe Hospital from their home in Aylesbury.
'Don't do walk-ins'
But despite her medical history and racing pulse staff would not admit her to the hospital's cardiac unit because she had not been referred by a GP or brought by ambulance, he said.
"The nurse said we had to go over to the minor injuries and illness unit to be referred by a GP," said Mr Evans-Woodward.
"I said 'My wife is having major palpitations.' They said 'Sorry, we don't do walk-ins. You have to go over the road and go through the policy and procedures.'"
He said they went to the unit but a doctor told them there was no-one available to do an electrocardiogram (ECG) test.
He said he was told his wife could only be seen if they dialled for an ambulance from outside the hospital, which they did.
But she was then left alone on a bed with no medication for an hour-and-a-half, despite her heart rate having increased to 216bpm, he said.
'Not good enough'
"My wife is scared to the degree that she doesn't want to go back to that hospital because she's scared that she's going to become a statistic," he said.
"I want to see that Wycombe Hospital has an accident and emergency department that is fit for purpose.
"They say it's a cardiac hospital, so people with cardiac problems and strokes should go to that hospital, but if you can't get into that hospital because you have not been referred by a GP or you are not in an ambulance, that's ridiculous."
Steve Baker, Conservative MP for Wycombe, told the Commons: "This is not good enough. It's an appalling prioritisation of bureaucracy over simple human care and compassion."
Dr Poulter replied: "Clearly the care that his constituent received was more than substandard. If a patient needs immediate treatment, they should always receive it."
Buckinghamshire Healthcare said it had received a complaint and was working with GP-led organisation Buckinghamshire Urgent Care to investigate.
"We would like an opportunity to meet the patient and discuss what happened in person," it said in statement.
"Both organisations take the quality of patient care extremely seriously and if we have fallen short in this case then we offer our apologies.
"We also seek to learn from our mistakes and have already made improvements to our services."