Milton Keynes bridge safety: Firm accused over inspections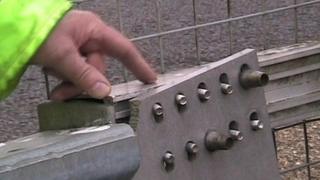 A contractor paid £1.56m since 2004 to inspect bridges in Milton Keynes and report safety issues has been accused of not carrying out the work properly.
Milton Keynes Council carried out an audit of work by Mouchel, a national infrastructure and services provider.
Auditors found general inspections were not delivered according to contract.
Mouchel denied the allegation and said it had met the terms of the "service level agreement" which has now been renegotiated by Milton Keynes Council.
In their report, the auditors said they found evidence parts of a maintenance agreement for Milton Keynes' 1,200 bridges were not being "adequately performed and other parts are disputed by Mouchel".
Reports and information had been found to be insufficient and inaccurate and data proved to be inconsistent or contradictory, the audit report said.
Work 'back in-house'
The council hired an external specialist who made 12 inspections and discovered repairs that would cost a minimum of £650,000, a BBC Inside Out investigation found.
Mouchel told the programme it had kept to the terms of its contract.
The report also criticised Milton Keynes Council for not overseeing the necessary work properly.
Council leader Andrew Geary said a lot of the work had now been brought in-house and a new subsidiary owned by the council hopes to complete it by the end of next year.
Mr Geary said: "We are getting our bridge inspections up to date and we have done a huge programme of putting things correct.
"Mouchel won't be carrying out many functions or services for Milton Keynes as of the end of December."
The council's cabinet set up the subsidiary company to bring services back under its control and it has renegotiated Mouchel's contract.
"We believe bringing this [work] back in house... is the best value for the taxpayers," Mr Geary said.
"Yes, we had a fee that we paid them (Mouchel) every year to deliver services for us.
"It was a 12-year deal and we have paid to come out of that three years early."
'Greater flexibility'
The council declined to reveal how much the settlement has cost as it was commercially sensitive.
In a statement, a spokesman for Mouchel said it had "fully met the requirements" of the agreement it has had with the council since 2004.
"In the past year, Mouchel has completed a significant number of additional general bridge inspections over and above the contractual requirement," the spokesman said.
The company said it had been asked earlier this year to provide extra services, including a three-year programme of bridge inspections that started in August.
The existing contract with the council, which has been extended by three years to 2018, has recently been "restructured" to provide "greater flexibility" to the council, the spokesman added.
More on this story on Inside Out BBC 1 Monday 3 December at 19:30 GMT.