EuroMillions lottery winner has week to claim £63.8m prize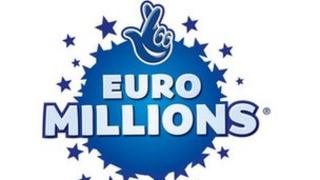 A lottery winner only has a week left to claim their £63.8m prize.
The EuroMillions ticket for the 8 June draw was bought in the Stevenage and Hitchin area of Hertfordshire.
The missing ticket-holder matched all five numbers - 5, 11, 22, 34 and 40 - as well as the Lucky Star numbers - 9 and 11.
They have until 23:00 GMT next Wednesday to claim their prize or the ticket will expire and the money will go to the National Lottery Good Causes.
The £63,837,543.60 win is for one of two jackpot winning tickets from the 8 June draw. The owner of the other ticket, from Belgium, has already claimed their prize.
Town crier in Lamborghini
A spokesperson for the National Lottery said: "We're urging everyone to look one last time everywhere a missing ticket could be hiding.
"We're desperate to find this mystery ticket-holder and unite them with their winnings."
Advertising vans displaying important information will be touring Stevenage and Hitchin this week.
The National Lottery has already been raising awareness using a town crier in a Lamborghini and visiting Luton Airport to remind those returning from holiday to check their tickets.
Anyone who believes they have the winning ticket for any of the draws within the 180-day deadline should call the National Lottery Line on 0845 910 0000.