Greg Rutherford: Milton Keynes 'Leaping Man' statue plan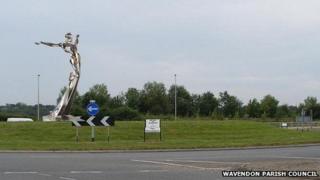 Plans to install a giant statue in honour of an Olympic gold medallist on a roundabout in Milton Keynes have been revealed.
The "Leaping Man" would mark Woburn Sands long jumper Greg Rutherford's success at London 2012.
The 8m (26ft) metal sculpture would stand on the A421 Fen Street Roundabout near junction 13 of the M1.
The £100,000 scheme, funded through a nearby industrial development, is open to public consultation until January.
If given the go ahead the sculpture should be complete by autumn 2013, Wavendon Parish Council said.
David Hopkins, chairman of the parish council, said: "We discussed the idea of having something that would become iconic to Milton Keynes, not only celebrating Greg's' success but also symbolic of Milton Keynes' 'can do' attitude."
Designed by artist Clare Bigger, the stainless steel sculpture "would be quite notable from some distance and would be the first thing you see as you enter Milton Keynes from junction 13", said Mr Hopkins.
"Everybody who's seen it has been generally very enthusiastic, but because this is so important for Milton Keynes we want people to have a look at the idea and tell us what they think.
"We'll then take a decision on what we submit to a formal planning process."