Great Ouse river levels rise around Bedford after rain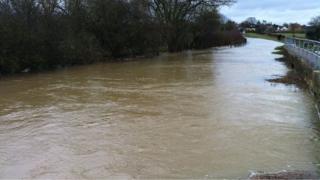 River levels are rising around Bedford and are expected to continue to increase in the next 24 hours, the Environment Agency has warned.
The agency has flood warnings in place along the Great Ouse, affecting riverside towns and villages in Bedfordshire and Buckinghamshire.
On Monday, Odell and Newport Pagnell experienced flooding, but river levels there have now peaked, the agency said.
It is asking people to be vigilant and check the agency's website for updates.
A spokeswoman said many of the two counties' rivers had burst their banks during the last day.
The agency said further spells of light rain were forecast later on Tuesday and Wednesday around Bedford, but the accumulations are likely to be much lower than seen in the past few days.
Flood warnings are in place at Bedford, Bromham, Harrold, Odell, Newport Pagnell, Olney, Newton Blossomville, Cople, Willington, Great Barford, Tempsford, Roxton and Wyboston.
Warnings at Buckingham were removed earlier.
At Harrold, the road has flooded out of the village towards Carlton.
'Blocked the roads off'
Parish clerk Nina Knight said it had been the worst flood she had seen in the village since 2003.
Trevor Smith, water bailiff at Harrold-Odell Country Park, said he volunteered throughout Tuesday night to check water levels on the road and advise motorists.
He said 28 cars had broken down in the water since it started flooding on Friday.
"When it first started it was OK, you could drive through. Then it got worse and worse and people were still trying to go through," said Mr Smith.
"We've blocked the roads off and they move the signs… They're so daft."
Milton Keynes Council said many roads in rural areas around the town that flooded at the weekend had reopened, but excess water did continue to flow from fields on to some lanes.
Its highways network co-ordinator Andy Dickinson said wet roads could become icy from Wednesday as temperatures drop and urged drivers to be cautious.