Luton disability assessment centre 'not accessible'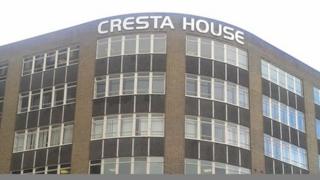 A disability assessment centre in Luton has been criticised for not being accessible to wheelchair users.
A lift which serves the sixth floor office in Cresta House would become unavailable in an emergency and visitors would have to use the stairs.
Wheelchair user Eileen Carroll said she was "stunned" when she was turned away because she was a "liability".
The Department of Work and Pensions (DWP) said it was looking for an alternative building.
"Where an assessment centre isn't on the ground floor, as is the case with Luton, we endeavour to make this clear to people before they arrive for their appointment," a spokesperson said.
"If people have mobility problems, which may make evacuation in the event of a fire difficult, a home visit or an appointment at an alternative assessment centre is arranged."
'Alternative location'
Ms Carroll said she was not asked whether she was in a wheelchair ahead of her visit to the fitness-for-work assessment centre, nor was she warned that access would be an issue.
"I turned up at Cresta House and was told I couldn't be assessed because I was a liability," she said.
"In order to get to that appointment I had to make several arrangements including my husband taking time off work."
She was told she would have to be assessed in Milton Keynes, but Ms Carroll said this was too much to ask.
Her benefits have now stopped, she said.
Atos Healthcare, which runs the assessments for the government, echoed the DWP's comment that people are warned of access issues before appointments are scheduled and said home visits could also be arranged.
"Luton is a government building so we are working with the DWP to ensure we best meet the needs of those claiming benefits," the spokesperson said.
Last week, employment minister Mark Hoban said 31 of 123 fitness-for-work assessments centres used by Atos lacked ground-floor access for wheelchairs.