Whipsnade Zoo elephant 'trunk art' sells on eBay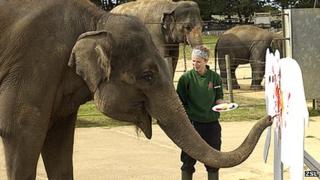 A large painting by a 14-year-old Asian elephant has sold on eBay for £360 to raise money for conservation projects.
The picture by Karishma, Whipsnade Zoo's "artist in residence", featured her signature "abstract" style and was sold to a buyer from Northamptonshire.
The work took about 20 minutes to create and is described as "unique".
Karishma started painting at the Bedfordshire zoo in 2011. It is the first time her work has been sold online.
Kat Baldwyn, from Whipsnade Zoo, said: "It's a unique piece of art. She's done paintings before, but this is the first time she's painted on the side of a wooden elephant.
"It measures about 5ft (1.5m) across and was created originally for a photo-call.
'Quick painter'
"We then decided to auction it for conservation projects that will help protect Asian elephants.
"She normally paints just once a year to create a piece for our elephant appreciation event in September.
"Karishma is a quick painter. It takes her about 20 minutes to create something from her selection of poster paints."
Asian elephants live in the wild in the mountains and forests of India, Sri Lanka, Malaysia, Indonesia and Southern China.
More closely related to the extinct woolly mammoth than to the African elephant, they eat vegetation, fruit, twigs, small branches, bark and roots.