Irene Mullenger, 81, sues B&Q for unfair dismissal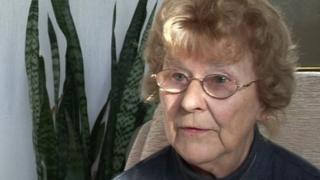 An 81-year-old woman from Buckinghamshire is suing B&Q for unfair dismissal.
Irene Mullenger had held a part-time role at the DIY store in Bletchley since 1988 but left in August when she was asked to work flexible hours.
She said she was not willing to start work at 07:00, finish as late as 21:00 or work weekends.
B&Q said it could not comment on the case in detail but said Ms Mullenger's departure had "nothing to do with age".
"B&Q has always valued the diversity of its workforce, almost 30% of our 33,000 employees are over 50 years old and our oldest employee is 89 years old," a spokesperson said.
'Happy people'
But Ms Mullenger, who worked on the checkouts 09:00-13:00 on Wednesdays, Thursdays and Fridays, said she felt like she had been forced out.
"I loved what I did," she said. "I worked with some very nice, happy people and it was great. I didn't want to change.
"Starting at 7am in the morning would mean getting up at about 4am, or working until late at 9 o' clock. I enjoy driving but 9 o'clock was too late."
She also said the change would have had a negative impact on her social life.
"Most of my friends are retired," she said. "I have to make plans - we don't just say 'ah, we'll go out'."
Daniel Valentine, representing Ms Mullenger on behalf of Regents Solicitors in Manchester, said: "We accept that B&Q is applying a provisional criteria, which it is applying to everybody, but what we are saying is that somebody who is elderly would find it more difficult to comply with that requirement or condition to the extent that they are indirectly discriminated against by reason of being subjected to it."