Power lines to be restored after Appspond Lane fire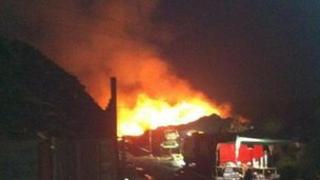 Electricity in power lines above a fire at a Hertfordshire recycling centre should be back by Thursday evening, National Grid has said.
Power has been off since the start of the blaze at Wood Recycling Services (WRS) in Potters Crouch, on 10 November.
A spokesman for National Grid said power would be restored, "weather permitting".
Hertfordshire Fire and Rescue said the fire had now "diminished considerably".
It said more than 120 attendances had been made by fire engines, not including special appliances, to the Appspond Lane site, since the start of the fire and it had received about 300 emergency calls.
It confirmed it still had one fire engine at the site and expected to be on the scene for "at least another five days".
'Under control'
Commander Ian Markwell said: "[The term] go out completely is a difficult [one] to define, but we will certainly be here for a few more days yet trying to control the main body of the fire.
"We will then have an awful lot of ash left on site so I predict it will be a number of weeks yet that it smoulders away."
"We are always appreciative of people putting [emergency] calls in, just in case it is something different that they are picking up, but certainly we have got the situation here well and truly under control," he added.
On Monday, WRS said it was investigating the cause of the blaze but it "could have started by accident, perhaps even by a spent firework".
The fire service said its own investigation was "progressing".
It revealed officers had interviewed members of staff who had discovered the fire, taken statements from firefighters who were first on the scene and looked at CCTV images.