Appspond Lane fire 'could have been accidental'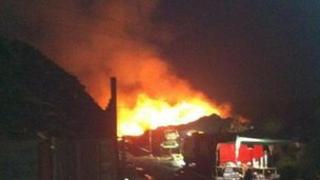 A fire at a wood recycling centre near St Albans, which has burned for nine days, could have been started by a firework, site operators say.
Firefighters first attended the blaze at Wood Recycling Services (WRS) in Potters Crouch, on 10 November.
The company said it was investigating the cause but it had started on the "very top of the pile".
"There is a possibility that it could have started by accident, perhaps even by a spent firework," a statement read.
WRS, which has been operating the Appspond Lane site since 2008, said the fire was in a pile of recycled wood which had been due to be processed as bio-fuel for green energy power stations.
'Difficult situation'
Last week, the Environment Agency and Hertfordshire County Council revealed that the company had had too much wood on its site and was investigating as to whether this was linked to the blaze.
A WRS spokesman said the fire service and Environment Agency had told the firm the fire would be allowed to "burn itself out in a controlled fashion", but it was not known how long this will take.
Director Simon Lupson said it was "a very difficult situation for all concerned".
"I am advised that the fire is contained and we hope that there will be significant improvement in the situation with smoke and ash in the next few days, although the site may not be able to be cleaned up for some weeks," he said.
"It is very frustrating that a fire like this not only stops a good and growing business in its tracks, but restricts the amount of bio-fuel available to green power stations through these winter months, right when they need it most."
On Monday, Hertfordshire Fire and Rescue Service said it was too early to be able to determine the cause.
Commander Ian Markwell said: "I won't dismiss [the firework] as a potential cause but our investigators will go through what they can find here.
"With a pile of wood burning like this, it will be extremely difficult to disprove that as a theory but we will be looking into all possible causes."
Commander Markwell added that the fire service should be able to hand the site back to the operators within "days".
"It [the fire] is diminishing, the pile is getting smaller so hopefully we can be off site within the next few days," he said.