Whipsnade Zoo elephant Karishma's to be auctioned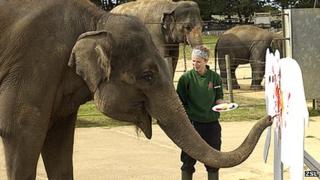 A painting created by a 14-year-old Asian elephant in Bedfordshire is being auctioned on eBay to help raise money for conservation projects.
The picture by Karishma, Whipsnade Zoo's artist in residence, features her signature "dots and stripes" painted in "abstract".
It is the first time the elephant's work has been auctioned online. Bidding currently stands at £205.
There are thought to be just 1,500 Asian elephants remaining in the wild.
Keeper Elizabeth Becker said: "Karishma really enjoys painting and she's very talented at it.
"It demonstrates just how dexterous elephants' trunks really are and we think the end results are pretty amazing, if a little abstract."
'Sweeping strokes'
Karishma first picked up a brush in 2011.
Rebecca Smith, from Whipsnade, said: "The keepers gave her a paintbrush and she immediately took to it. She's been our artist in residence ever since.
"I think it's best to describe her work as full of sweeping strokes - but perhaps the beauty is in the eye of the beholder."
A mother-of-one, her son George appears to be more interested in playing than painting.
"It doesn't seem as if her artistic tendencies run in the family," added Ms Smith.
Asian elephants live in the mountains and forests of India, Sri Lanka, Malaysia, Indonesia and Southern China.
More closely related to the extinct woolly mammoth than to the African elephant, they eat vegetation, fruit, twigs, small branches, bark and roots.