Footballer with Tourette's syndrome banned for swearing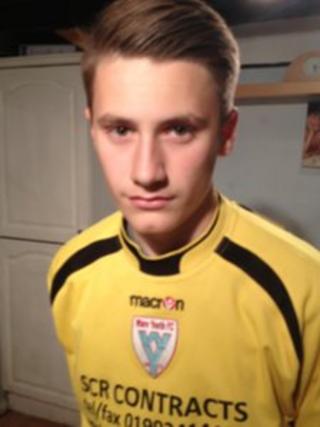 A 14-year-old footballer with Tourette's syndrome has been banned for swearing at a referee.
Owen Thompson, who plays for Ware Youths in Hertfordshire, was handed a two match ban and £35 fine after the post-match incident.
His team's manager, Alistair West, said Hertfordshire Football Association was wrong to punish the young goalkeeper.
A spokesperson for the FA said the punishment was reduced after it was made aware of Mr Thompson's condition.
The teenager will now be made to miss one match and asked to pay a £15 fine.
Tourette's is a neurological disorder thought to occur if there is a problem with nerves communicating in the brain.
Mr Thompson first showed signs of the disorder about four years ago, his mother said.
'Lack of respect'
Nick Perchard, chief executive of Hertfordshire FA, said the incident took place at the end of a match on 7 October when the referee went to shake hands with Mr Thompson.
"Instead of shaking hands, the player swore at the referee twice and then walked away and refused to talk to the referee when the referee asked him to explain his actions," he said.
Ware Youths had conceded a late goal.
"The committee took the player's condition into account and the one match suspension imposed was in regards to the player refusing to return to the field of play to discuss why he had sworn at the referee."
Mr Perchard said the "lack of respect shown to the match official was not connected to his medical condition".
But Mr West said Hertfordshire FA had "handled the situation badly".
"Owen has got an exemplary record and has never been booked or sent off," he said.
"This is the second year with us and he doesn't swear very often - it happens if he's frustrated."
Mr West disputed the FA's version of events, saying that Mr Thompson did not return to talk to the referee as he had told him to go to the changing rooms.
"He's a very good goalkeeper and football is what he enjoys," he said.
"If this happens repeatedly Owen will have to give up football because his mum won't be able to afford the fines."
Mr Thompson's mother, Melanie Burgess, called on the FA to show a better understanding of her son's condition.
"Is this going to happen all the time?" she said.
"The referees need to understand it's not something he's in control of. It's like a sneeze."