Bedfordshire Tories criticise Nadine Dorries MP as Labour wins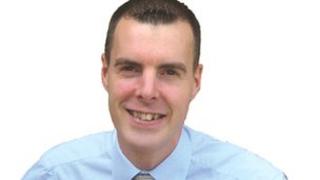 Senior Bedfordshire Conservatives criticised Nadine Dorries' decision to take part in a reality TV show after Labour won a police commissioner poll.
Olly Martins narrowly beat his Tory rival Jas Parmar with 52.8% of votes.
Conservative Nigel Young said spoilt ballots had directly referred to Tory MP Ms Dorries' appearance in I'm a Celebrity... Get Me Out Of Here.
And Andrew Selous, MP for Bedfordshire South West, said her move "certainly hasn't helped".
More than 2,200 ballot papers were declared "void for uncertainty" in the poll, which saw a turn out of 18.19%.
'Mid-term protest'
Mr Young, of Central Bedfordshire Council, said he was aware of reports of several voting papers being spoiled, with direct references being made to Mid-Bedfordshire MP Ms Dorries' role in the reality television show causing "disquiet".
"I think that has caused some disquiet in central Bedfordshire - that their MP is away and is out of the country," he said.
"I think we are disappointed at the number of spoiled votes. We hope that external factors such as ITV programmes which are running at the moment didn't have an effect on us but perhaps they did."
Richard Stay, a Central Bedfordshire Conservative councillor, sent a Twitter message to Ms Dorries that read: "Just a note to thank you for the impact you had on the Beds PCC election."
Mr Selous, who claimed the vote indicated a "mid-term" protest against the government, said Ms Dorries "certainly hasn't helped".
Ms Dorries was suspended by the Conservative Party over her decision to appear on the show.
'Strong partnerships'
Mr Martins was declared victorious at the Luton poll with 52.8% of the vote after the second preferences were counted in a second round of voting.
The new PCCs, which are replacing police authorities, will set spending plans and have the power to "hire and fire" chief constables.
A former service co-ordinator with Victim Support and member of the Territorial Army, Mr Martins said he was committed to scrapping any plans by Bedfordshire Police, with Hertfordshire and Cambridgeshire Police, to outsource some services to G4S.
During the campaign he said he aimed to "ensure the committed public servants who work for Bedfordshire Police.
He said he would "work hard to build strong working partnerships across the criminal justice system".