Potters Crouch fire water problems 'to continue'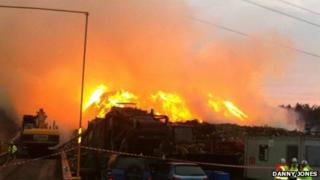 A fire at a wood recycling centre near St Albans is still burning six days after it broke out, leaving residents with an "intermittent" water supply.
Fire crews first went to the site in Appspond Lane, Potters Crouch, at midnight on Saturday.
Due to the amount of water needed, residents have been left with reduced water pressure and, at times, no water.
Affinity Water said it expected the problem to continue "for the duration of the fire".
The water company said that approximately 15 homes in Leverstock Green were affected and that during peak demand times, they may have no water.
It said it was providing bottled water.
Catherine Reardon, who lives a few hundred yards from the site, said she had no water at all "for the vast majority of the day".
"We get it on for about an hour in the early morning, and now an hour in the evening, since the water company managed to negotiate with the fire brigade to allow us to have that," she said.
"It's been very, very challenging. All the things you take for granted every day, like flushing the toilet, using the shower or putting a wash on, you can't do."
Affinity Water said: "The fire and rescue services are continuing to work with us to reduce their water needs during peak times."
'Good progress'
Hertfordshire Fire and Rescue Service said "a conservative estimate" was that the blaze, which is near junction 8 of the M1, "will still be ongoing a week from now".
On Friday, two appliances were still at the site, with crews changing every five hours.
Ian Markwell, from the service, said it was "making good progress" but he did not think it would be "fully out" by the middle of next week.
"I think that's optimistic," he said.
"Certainly the main pile will have reduced in size, but then there will be some damping down of what's left on site to make sure it doesn't spread to the unaffected piles."
Roads in the area, which had been closed as a result of smoke from the blaze, are now all open except for Appspond Lane, which is shut near the A4147 Hemel Hempstead Road junction.
However, the Highways Agency is warning road users of the risk of poor visibility in the area while the fire is still burning.