Amelia Arnold death: Family tribute to killed teenager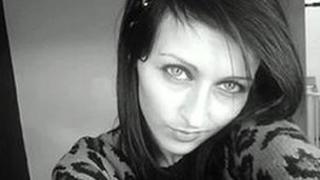 The family of a Hertfordshire teenager allegedly murdered by her ex-boyfriend have said she was a "little star" and a "fantastic mummy".
The body of Amelia Arnold, 19, who went missing last Wednesday, was found on Sunday near Travellers Lane, Hatfield.
A post-mortem examination found the hairdresser had died of head injuries.
Jack Wall, 22, of Hadrian's Walk, Stevenage, is due to appear at Luton Crown Court on Thursday charged with Miss Arnold's murder.
Mr Wall was arrested at the weekend after he handed himself in to police.
Joseph Potter, 41, of Sycamore Avenue, Bletchley, Buckinghamshire, is charged with perverting the course of justice and is in custody.
'Cherished her baby'
Miss Arnold and Mr Wall shared a home with their young daughter. It is thought the couple had split up before the death.
The victim's mother Amanda said in a statement: "You gave us joy for most of your short life, you made us laugh.
"You loved to dance and sing from a young age, always the entertainer - our little star.
"You are a fantastic mummy. We love you and will always remember the fun times. Rest in peace my sweet child."
Her father Laurence, said: "A beautiful, young mother, very much loved and cared for by the people who really cared.
"She loved and cherished her baby. She will be dearly missed by her family and friends."