Woolmer Green police pursuit deaths: Families pay tribute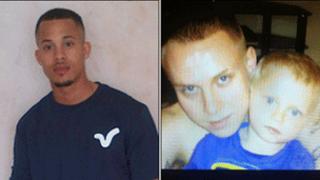 Tributes have been paid to two fathers who died after a car being pursed by police hit a lamp-post.
Karl Spencer, 25, and Cameron Nimmo, 20, both of Bedford, were passengers in an Audi which crashed in Woolmer Green, Herts, at 02:40 GMT on 2 November.
The family of Mr Spencer, who died at the scene, said he had been a "free spirit who loved life".
Mr Nimmo died the next day. His parents said: "He made the rest of the world laugh."
The crash is being investigated by Essex Police and has been referred to the Independent Police Complaints Commission.
'Heartbreaking loss'
Mr Spencer's family said that Karl, a delivery driver for Domino's Pizza, was a "very loveable character".
"We will have to live with this every day for the rest of our lives which will be incredibly difficult," a statement read.
Kizzie Ford, the mother of Mr Spencer's six-year-old son Malachi, said their lives had been "totally devastated".
"I still cannot believe he has gone forever," she said.
"Following this heart-breaking loss, many lives will never be the same again. Karl will be sorely missed as he sleeps peacefully."
Mr Nimmo's parents Jason and Allyson said: "Our lives have been destroyed and we will never be able to come to terms with the loss of our son."
'Please come forward'
Jason Nimmo added: "He was a wonderful father to his two-year-old son Loghan and life will never be the same again for our family.
"We plead with any witnesses to this collision to please come forward."
A 27-year-old Bedford man appeared at St Albans Crown Court on Tuesday, charged with two counts of causing death by dangerous driving and related charges. He was remanded in custody until 16 January.
A 21-year-old man, also from Bedford, arrested on suspicion of aggravated vehicle taking in relation to the case, has been bailed by police until February.