Appspond Lane recycling site 'breached permit conditions'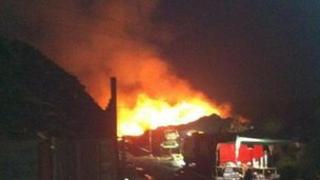 Operators of a recycling company near St Albans, where a fire has burned for six days, had too much wood on its site, according to the Environment Agency.
The agency said Wood Recycling Services, in Potters Crouch, had more waste than it was allowed to store and its permit was suspended in September.
Hertfordshire County Council, which enforces planning conditions, said its pile of wood had been too high.
The company has declined to comment.
The fire in Appspond Lane started about midnight last Saturday and on Friday, the fire service said it could still burn for another week.
'Did not comply'
The agency said it will now look at whether the company's failure to comply is linked to the blaze.
Spokeswoman Victoria Owen said the company went over its volume restrictions earlier this year and an enforcement notice was served in July, which was not complied with, so the agency suspended its permit.
"It [the Environment Agency] suspended them from taking in any more waste to the site so that it could only remove waste," she said.
Ms Owen it would be looking into what happened once the site had been made safe.
"The fire service will look into how it started," she said.
"The Environment Agency will look at the breaches of the permit but eventually it will become one investigation to decide whether [the permit breaches] were related to the fire.
"If so, there are various options open to us including prosecution or revocation of the permit.
"That's the ultimate price that could be paid, but I am not saying that this will happen, it will be down to the investigation."
Ian Reay from the county council said it issued a breach of condition notice in August, giving the company until the end of that month to reduce the height of the wood pile.
"Unfortunately the operators did not comply with our requests," he said.
He added that it had been in the process of considering what action to take next, but it would have taken time to force them to clear it.
"We don't want to rush into a legal action because that's a lengthy process in its own right, the thing we wanted to do first is try and use persuasion and negotiation," he said.