Potters Crouch fire leaves residents' water supplies disrupted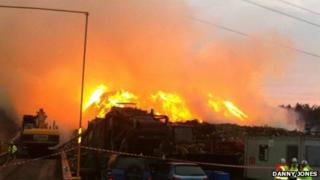 People living near a fire at a recycling centre in Hertfordshire have had their water supply disrupted.
Wooden pallets have been burning beside the M1 at Potters Crouch near St Albans since Saturday and could take days to put it out completely.
Due to the intensity of the blaze, crews are using both available hydrants leaving residents with reduced water pressure and, at times, no water.
Affinity Water are delivering emergency supplies of bottled water.
A statement from the water company said a pallet of bottled water was delivered to Hemel Hempstead Road on Monday afternoon and was being distributed to affected customers.
'A worry'
"We would like to apologise for the inconvenience caused to our customers and to thank them for their understanding and patience during this incident," the company said.
One resident, Catherine Riordan, said: "It's OK to live a day or half a day like that - you can manage with no washing up or not putting the washing machine on.
"But I've got a toddler... and not being able to wash up after him or put him in the bath or even keeping him basically clean is quite a worry."
As a result of smoke from the blaze, some roads in the area have been closed which the county council said could remain in place until mid-week.
The A414 between the A405 Park Street roundabout and junction 7 of the M1 and the A4147 between King Harry Lane and Breakspear Way have been shut.
A diversion is in place but the council warned drivers to expect congestion in Hemel Hempstead and St Albans as a result.