St Albans: Hertfordshire crews tackle two major fires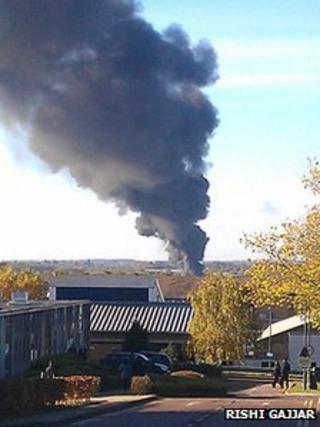 Firefighters in Hertfordshire are tackling two major fires near St Albans.
A large pile of wood has been on fire at a recycling centre at Appspond Land, Potters Crouch, since about midnight on Saturday.
A quantity of plastic crates is burning in the yard of a nursery at Station Road, Smallford.
Smoke from the fires can be seen from a long distance away and by drivers on the nearby M1, A1(M) and A414 roads.
A Hertfordshire Fire and Rescue spokesman said a 20ft (6m) high pile of wood was on fire at Potters Crouch.
She said the smoke was not hazardous but the fire was expected to burn for several more days.
Fire crews were called to the Smallford fire at 12:05 GMT on Sunday.
Eleven crews were at the scene on Sunday evening.