Ditchford Lock: Sunken narrowboat recovered from river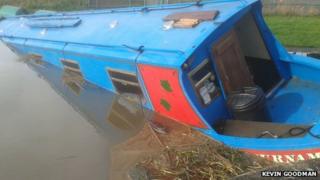 A narrowboat that sank in strong currents has been recovered from the River Nene in Northamptonshire.
The 60ft boat was in the river at Ditchford Lock, near Rushden, for over a week.
A couple jumped free of the boat after it collided with sluice buoys as they attempted to negotiate the lock.
Water was pumped from the boat before it was refloated and moored at the side of the river ahead of its expected examination by insurance assessors.
Kevin Goodman, who runs a nearby fishery, was called to the scene shortly after the boat got into difficulties.
Mr Goodman said he the couple were quite shaken after the boat sank.
"The man and the lady and two dogs managed to get off the boat OK on to the banking," he said.