I'm a Celebrity: MP Nadine Dorries' constituents' views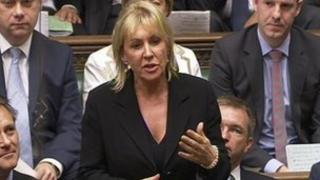 When Nadine Dorries joins the starting line-up of ITV1's I'm a Celebrity... Get Me Out of Here, she will become the first MP ever to do so.
Reports of her involvement in the show have already attracted criticism from some of her fellow MPs.
But to find out what her constituents thought, BBC News spoke to voters in a street in Mid Bedfordshire.
While some residents backed her, others described her involvement in the game show as "totally inappropriate".
Former nurse Ms Dorries could be in Australia, where the show is filmed, for up to month, missing a number of Commons votes. The whip has been removed from the Conservative MP, which means she is now technically an Independent.
Church Street in Ampthill sits near the centre of Ms Dorries' constituency.
'Losing the plot'
Retired management consultant James Gibb, 68, said although he was not a Conservative voter he had initially been impressed by Ms Dorries.
"But she didn't rise up with wrath when there were plans for a lap-dancing club in the town, which I would have expected, and my opinion has gone down and down," he said.
"I think she's losing the plot, now. Taking part in I'm a Celebrity is totally inappropriate for an MP. Frankly I'm staggered."
However, Ezequiel Gomez-Gibson, 28, who works as a wine adviser at Cambridge Wine Merchants in Church Street, said he was not at all bothered.
"I think it's fine for her to do it and it's none of my business," he said. "I have no problem with that and I'm sure she must have a reason for wanting to do it."
'She should go for it'
Another resident, who did not wish to be named said: "I think it would be a good idea to send most politicians to Australia."
However, Kelly Aspinwall, 23, who works in the local chemist and has lived in the area most of her life, thought it was a "great idea".
She said: "I think she should go for it.
"The problems here won't get any better or worse while she's away, so why not do it?
"Anyway, I think what she's doing could raise awareness of all sorts of issues that could benefit her here."
Her colleagues, however, disagreed and said Ms Dorries should stay in the UK and "sort out the problems we have here".
'Coffin of rats'
A customer at the newsagent's on Church Street said: "We'd all pay to see her go into a coffin of rats and do the food challenge.
"I doubt she'll last anyway," he added. "She doesn't have the bottle to stand up for the townspeople so she definitely won't have the bottle to last a week."
Senior officials at Ms Dorries' Mid Beds Conservative constituency association are holding an emergency meeting later to discuss her decision and are expected to issue a statement.
They have told told the BBC they have not had confirmation from the MP, or anyone else, that she is taking part in the programme despite trying to find out.
The line-up of those taking part in I'm a Celebrity... Get Me Out of Here has yet to be officially announced but Ms Dorries has flown to Brisbane ahead of the start of the series.
She told the Daily Mail she was taking part in order to raise awareness of issues she is interested in, such as reducing the time limit on abortions from 24 weeks to 20 weeks.
In February 2010, Ms Dorries took part in the Channel 4 documentary series Tower Block of Commons, in which MPs moved in with benefit claimants on a deprived council estate.