Pirton villagers knit houses in lottery cash bid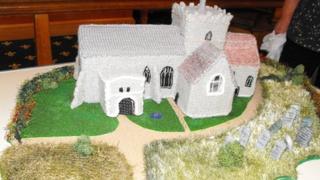 Hertfordshire residents have made knitted replicas of some of the buildings in their village, in a bid for lottery funding.
Pirton Local History Group wants to create an interactive map of the village's oldest houses for the Heritage Lottery Fund's (HLF) All Our Stories scheme.
It hopes its knitted village will raise awareness for the history project.
Two pubs, a shop, the church and about 24 houses have been recreated in wool.
All Our Stories aims to help communities share their heritage, and is linked to the BBC Two programme Great British Stories.
The group has applied for a £5,500 grant, to create a map for its website, that will reveal the history of the oldest buildings in the village.
The knitted models will be displayed at Pirton Methodist Church on 2 and 3 November, where old photographs, paintings and drawings will also be on display.
'Community effort'
Helen Hofton from the history group said: "We already have a lot of information about [the oldest] houses in the village, and who lived in them, but we are trying to record the whole story.
"We want the people who own these houses to allow us access in order to take measurements and pictures, and also for them to help us do it."
"We hope that this exhibition will capture their imagination, so they will know why we want to look in their houses," she added.
She said about 30 people had been involved in Knit the Village, with some actually knitting, and others doing embroidery or making cardboard models on which to hang the woollen walls.
"It has truly been a community effort, with people sharing their skills of knitting, sewing and model making," she said.
"Those involved will never look at the village buildings in the same way again, [in future they will ask] "which wool will I use for bricks or thatch?" or "how could I knit that porch?
A decision on the funding will be made by the HLF in November.