Lister Surgicentre: Joint replacement referrals postponed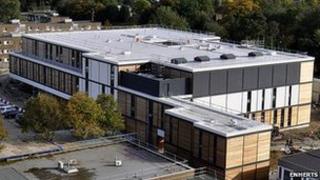 Patients who need joint replacements have had referrals to a privately-owned Hertfordshire clinic postponed while the NHS addresses managerial concerns.
NHS Hertfordshire said it had suspended orthopaedic referrals to the Lister Surgicentre, run by Clinicenta, at Stevenage's Lister Hospital.
An NHS spokeswoman said "clinical and managerial leadership" concerns had been raised.
It is now taking necessary measures to ensure "effective" services.
Clinicenta said it would continue to offer "high quality care" to patients still on its waiting lists.
'Interim period'
The Lister Surgicentre, located on the Lister Hospital site, opened in November 2011 and provides routine surgery and treatment to NHS patients, commissioned directly by the Primary Care Trust (PCT), NHS Hertfordshire.
The PCT stopped new ophthalmology referrals to the Surgicentre in August and said its recent decision on orthopaedic patients was for "an interim period".
The East and North Hertfordshire Clinical Commissioning Group (CCG) said it had dropped referrals of joint replacements, which were the "most complex surgical treatments" handled at the centre.
Doctors will now discuss with patients which other provider within the East and North Hertfordshire NHS Trust is most appropriate for their treatment.
'Monitor performance'
It comes as part of the ongoing "intensive monitoring" of the management of the Surgicentre's services.
Lesley Watts, from the CCG, said "We will continue to monitor performance, taking the measures necessary to ensure services to the public are effective and that standards are met."
Clinicenta director Mike Hobbs said: "It is important to stress that we have not been stopped from delivering services and will continue to offer high quality care to patients already on our waiting lists.
"Our joint replacement referral status will be reviewed regularly and we hope to resume accepting new patients as soon as possible."
Earlier, the PCT said it was investigating the "uncommon" deaths of two patients following elective surgery at the centre.
A Care Quality Commission (CQC) report published in September said service at the centre was "not meeting one or more essential standards" and criticised both a lack of staff and effective systems to identify and manage risks.