Bedford Hospital: Council sets up petition against cuts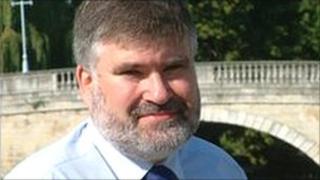 A petition has been set up by a council as a "loud and clear message" against planned cutbacks at Bedford Hospital.
Bedford Hospital is among five in Bucks, Beds and Northamptonshire which could have its accident and emergency and maternity services downgraded.
All five fall under an NHS review of health services in the south east midlands, called Healthier Together.
Mayor of Bedford Dave Hodgson said: "We simply cannot afford severe service cuts and downgrading of the hospital."
The Healthier Together programme has said it wants to create specialist centres of excellence at Bedford, Kettering General, Luton and Dunstable, Milton Keynes and Northampton hospitals.
It is looking into the "affordability" of services for people with cancer and diabetes, as well as maternity departments, children's services and accident and emergency.
The petition by Bedford Borough Council opposes "any attempt to select Bedford Hospital to suffer a severe reduction in status and in services provided".
'Unsettling for people'
Mr Hodgson added: "Bedford Hospital's role in providing vital healthcare services to local residents must not be downgraded.
"The council has sent this message loud and clear, and wants to give local residents every opportunity to do so too."
Bedford Hospital NHS Trust chief executive Joe Harrison said he could appreciate the situation was "unsettling for local people".
"Under the terms of Healthier Together - on which it is important to remember no decisions have yet been made - women will be able to give birth at every hospital site and local people will be able to get urgent and emergency care at their local hospital.
"A&E and maternity departments will not close.
"This is all about concentrating resources for specialist care, rather than spreading doctors, surgeons and specialist equipment thinly across lots of hospital sites."
He added that a public consultation would take place early next year.
The petition is open until 19 December.